List of Lands Available
Notice: The Clerk's Office does not advertise "List of Lands Available" on craigslist or any other "classified" websites.
Real property that is offered for sale at a tax deed auction, but does not sell, may be placed on the List of Lands Available for purchase by the public. Properties remain on the list for up to three years, on a first come, first served basis. If no one purchases the property after three years, it automatically transfers ownership to Alachua County through an escheatment process.
Purchase Property from List of Lands Available
Contact the Clerk's Tax Deed department to ask about the current cost of purchasing property on the List of Lands Available. The total cost will include:
Opening bid at the time of the auction (past due taxes, plus the costs required to bring the property to sale and one-half of the assessed value, pursuant to F.S. 197.502(6)(c), if homestead exempt;
All taxes incurred since the auction;
Costs to issue and record the Tax Deed, including documentary stamps.
When purchasing property off the List of Lands Available the Accepted forms of Payment are:

FORM OF PAYMENT

INSTRUCTIONS

Cash

Hand deliver to the Clerk and Comptroller.

Cashier's Check

Make payable to Alachua County Clerk.
Deliver to Clerk's office.

Wire Transfer

Initiate at your bank. An $8.00 fee applies.
Allow 48 hours for funds availability.
NOTE: Personal checks and credit cards are not accepted on tax deed sales.

Upon receipt of full payment and deeding information, the Clerk and Comptroller will:
Issue a tax deed, indicating the change in property ownership.
Record the tax deed into Alachua County's Official Records.
The original tax deed will be returned to you after the document has been recorded. Additional copies can be obtained by searching Alachua County Official Records by the new owner's name or by contacting the Tax Deed department.
For current List of Lands property information, please visit RealTDM
To search for List of Lands – Available for Public, under Case Status select "List of Lands" and then select List of Lands – Available for Public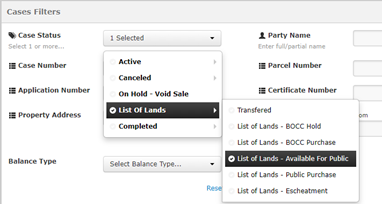 FS 197.502(7) and RULE 12D-13.064
Contact:
J.K. "Jess" Irby, Esq.
Clerk of Circuit Court
201 E University Ave
Gainesville, FL 32601
Phone: (352) 374-3615
For further information on the parcels listed above,
use this Search from the Property Appraiser's Web Site.