Pursuant to Administrative Order #AOSC14-19 of the Supreme Court of Florida, electronic access to Alachua County Court Records will be limited to the information which is exempt from the restrictions identified in the Administrative Order.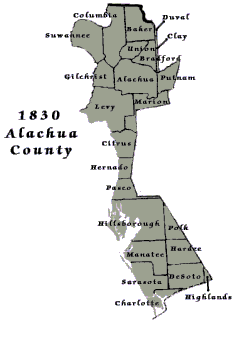 Other Alachua County
Census Year Maps
Marriage Records
1837 through May 1973
Database Completed
Thanks to our Volunteers.
Probate &C Records
Index
Notice: Due to Florida Supreme Court Administrative Order No. AOSC07-49, images of Court records will not be available until further notice.
Partial Deed Index
235,344 Entries 13 August 2019
Partial Mortgage Index
21,539 Entries 13 August 2019
Virtual Museum Search
Search the Virtual Museum
Transcription Search
Volunteer Help Wanted
We are making an attempt to Transcribe and/or Index our online document images. The transcriptions will make the entire text of these documents available to our search engine. If you would like to help, please check our
Volunteer Help Page
for more Information.
Jim Powell Jr
Ancient Records Coordinator & Webmaster
Alachua County Virtual Cemetery
A project to photograph all existing Alachua County Grave Markers
Under Florida law, e-mail addresses are public records. If you do not want your e-mail address released in response to a public-records request, do not send electronic mail to this entity. Instead, contact this office by phone or in writing.